Priyanka Chopra once again has managed to woo everyone with her red carpet appearance. While this is the first time she has stepped on the Golden Globes red carpet, clearly, her fashion game is topnotch as always! The golden girl is wearing a gorgeous shimmery number by Ralph Lauren. Keeping it simple and chic, she has donned just one item of jewellery for her outfit speaks for itself. Even the makeup is kept very PeeCee style, a deep hued lip colour and nice smoky eyes. We give her a 10 on 10 for this perfect styling and of course, for pulling it off like a diva on the red carpet. We have no qualms with her styling as we are totally loving it.
Earlier, in fact just a few hours ago, Priyanka had shared a pic on Instagram giving us a bit of a scare for whether she can make it for Golden Globes. On her Insta post, she stated that she was stranded in New York airport due to snow and she had to make it to LA for the awards. We were super worried 'cause we weren't sure whether she'll reach Golden Globes on time for the D-day. But guess what, she sure is a super woman as she made it to the red carpet and she slayed it sexy! You can check out her picture below and tell us if she nailed the golden girl tag we've put on her. (ALSO READ – Priyanka Chopra needs suggestions on what to wear for Golden Globes 2017 red carpet, got any ideas?)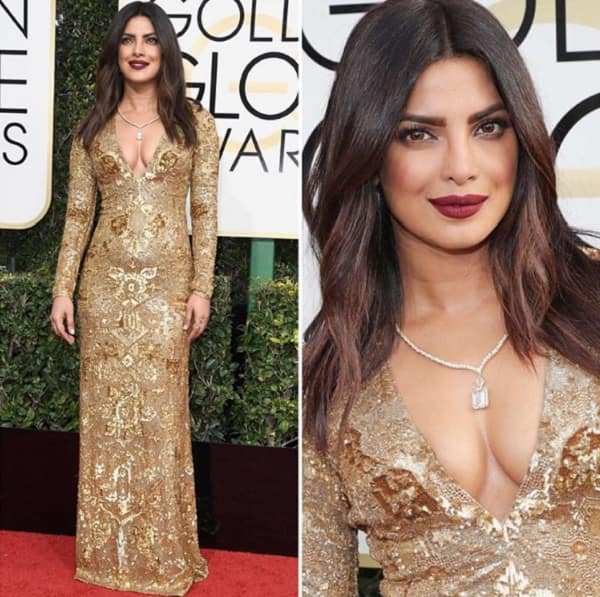 The awards red carpet is surely star studded as we can see a throng of celebrities loooking hot AF. From nominees Ryan Reynolds, Gina Rodrigues to couple Justin Timberlake and Jessica Beil, there are some really good looking celebs at the red carpet. And the list just got hotter with out desi girl turning up like a million bucks. While we're still perplexed about what category she's presenting but don't worry, you know us, we always get you the best and hottest updates! So folks, do you like her look? Does she nail the red carpet look with her golden avatar? Tell us everything you think in the comments section below. Also, stay tuned to this space for hot scoop and latest gossip from the Golden Globes!
Take Our Poll